"Todos a bordo. Allen aan boord. Tous à bord. Alle an Bord. Tutti a bordo. However you say it, we mean it: All Aboard and Welcome to Amtrak."
The US national rail operator, Amtrak, not only strives to exceed each passenger's expectations with go-the-extra-mile customer service on board of each train, but – most importantly – connects America in a safer, greener and healthier way. Traveling by rail contributes less per passenger mile to greenhouse gas emissions than either cars or airplanes.
Reducing carbon footprint on your US vacation is therefore as simple as experiencing the country at ground level — not from 35,000 feet above. Whether it's taking in the excitement of the great US cities, or marveling at the magnificent vistas of the majestic Rocky Mountains, why not get up close and personal with the places and people of this vast and diverse nation.
With more than 21,000 miles of track serving the United States (and parts of Canada) and more than 500 station stops in 46 states, you can truly get a sense of the scale of the country. USA Rail Passes let you explore at your leisure, hopping on and off the train at the destinations of your choice.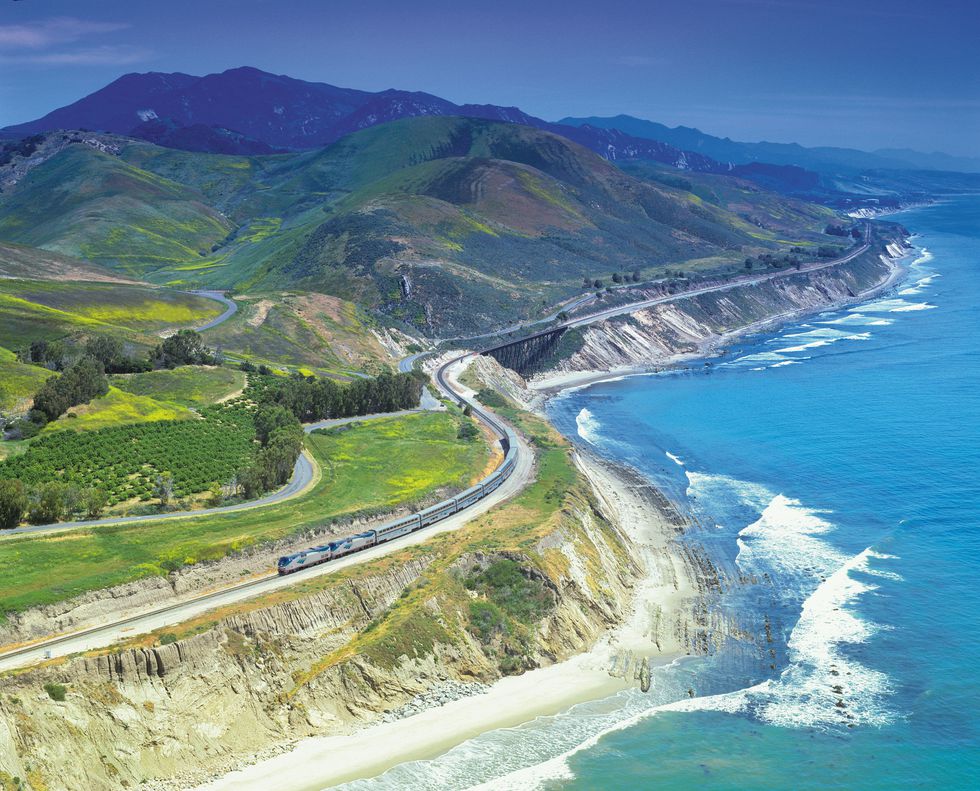 En route daily between Los Angeles and Seattle since the 1940s, the historic Coast Starlight train is widely regarded as one of the most spectacular of all train routes in North America. The 36-hour trip covers 350 miles and takes you through Portland, the San Francisco Bay area and Santa Barbara, making some 30 stops along the way.
Why not get up close and personal with the places and people of this vast and diverse nation.
The scenery along the route is unsurpassed. The dramatic snow-covered peaks of the Cascade Range and Mount Shasta, lush forests of Oregon, fertile Californian valleys and vineyards, and long stretches of Pacific Ocean shoreline provide a stunning backdrop for your journey.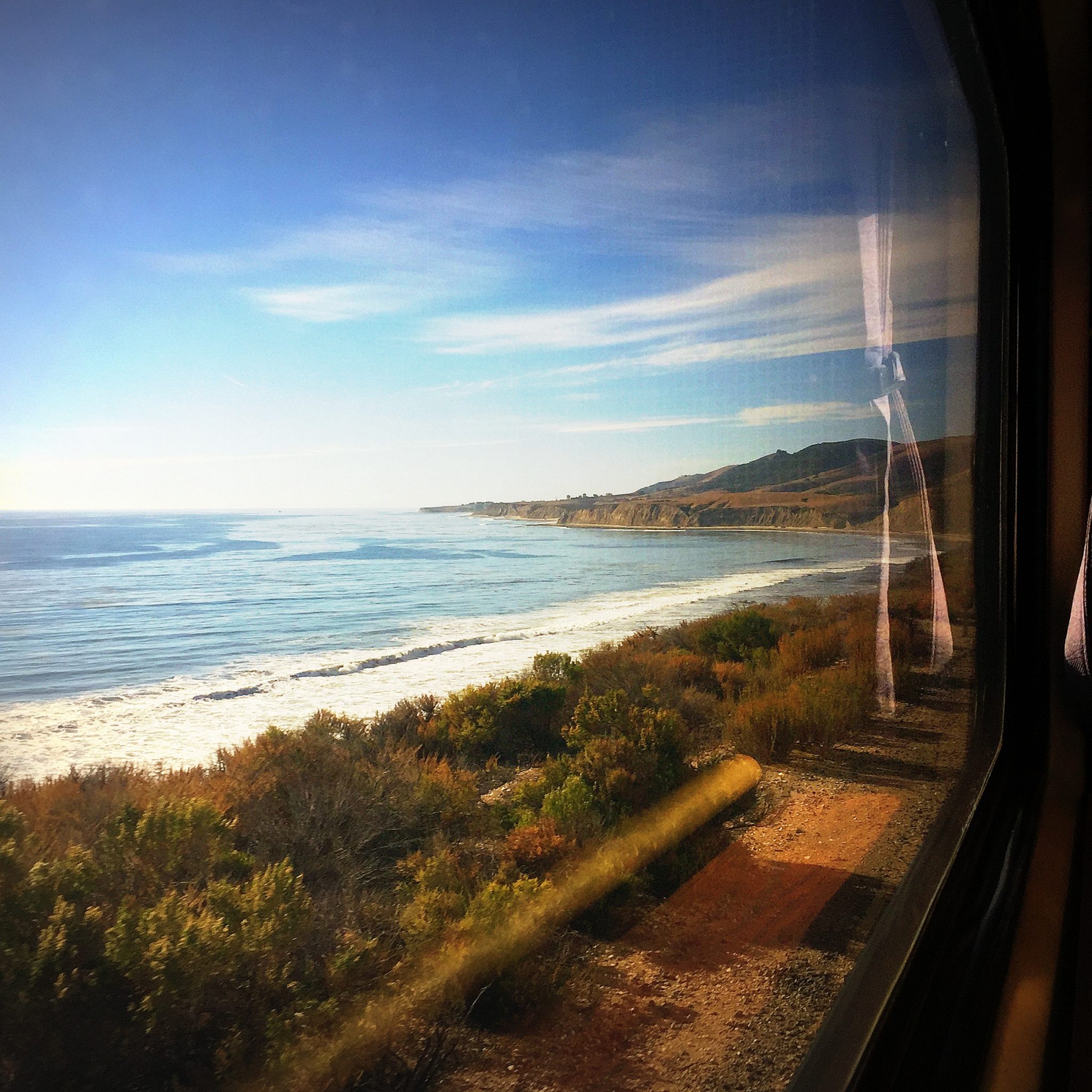 This legendary train features Superliner Sleeping and Dining Car accommodations and spectacular views from the 360 degrees glass observation deck with floor-to-ceiling windows, or the Lounge Car. Passengers can also lounge in swivel chairs so they can get a wide view.
Different seating arrangements are available and vary by price.
Coach passengers enjoy fairly big, comfortable seats, plenty of legroom, along with Just-for-You Express Meal Service, where coach passengers can select from a limited daily menu featuring specially priced, freshly prepared lunch and dinner selections with the convenience of at-seat delivery.
Business Class will get you seating in a dedicated car, free Wi-Fi (though you most likely will be too busy staring through the window to use it), two bottles of water, an onboard credit for food and beverage purchase or afternoon wine tasting.
Meals are included in the fare for Sleeper and 'Roomette' passengers (and are surprisingly edible – unlike plane food… There are even some veggie options), as is access to the Metropolitan Lounge in Los Angeles and Portland where you can enjoy complimentary snacks, fresh fruit and coffee. Your cabin will come with a bed for overnight comfort and your very own sightseeing window.
With this ticket type you will also get access to The Coast Starlight's renowned remodeled 1950 "Parlour Car" that evokes that era of rail travel.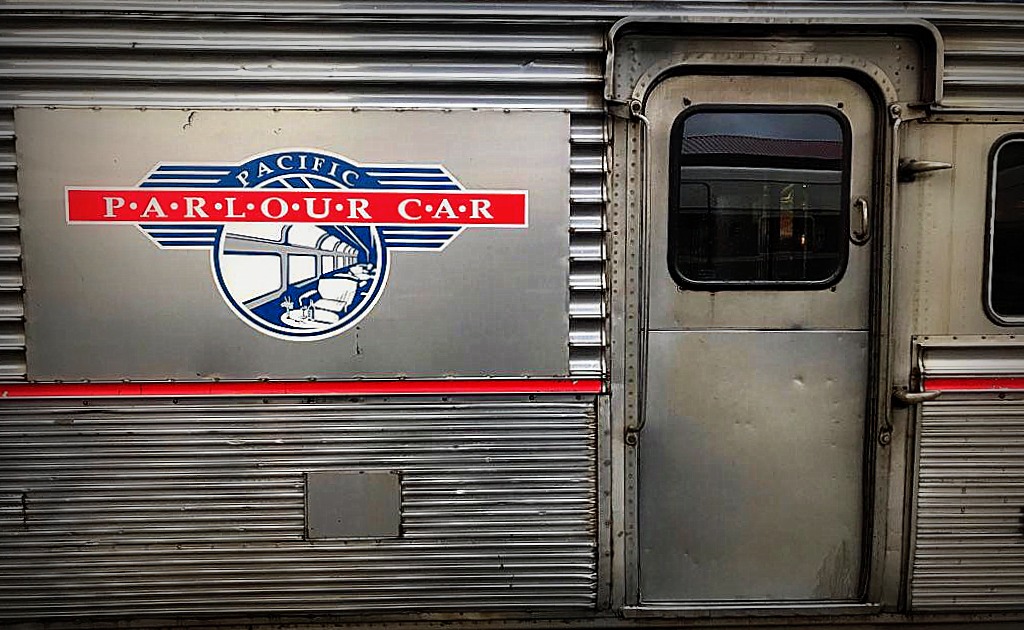 A very fitting beginning to such an epic train journey is one of the few remaining America's great train stations – the Union Station in Downtown LA. Opened in May 1939, the Spanish Mission style was blended with art deco to create a monument to travel. Train travel had helped knit the vast territory of the United States together, after all, and every major city wanted a rail terminal that proclaimed its significance and prosperity.
Even now that aircraft have taken most of the market for long-distance travel, LA's main station remains a magnificent piece of architecture. Listed on the National Registry of Historical Places, its lofty halls are topped with timber ceilings, supporting stunning chandeliers above floors of patterned tiles. Passengers, regardless of the class of travel, wait for their departures in rows of comfortable cushioned armchairs, illuminated by natural light from stunning tall windows.
LA's main station remains a magnificent piece of architecture.
The journey ends in Seattle's King Street Station. Built in 1906 and recently renovated, it's yet another great monument to the golden age of the US Rail. Make sure to check out the omnipresent marble panels, elegant chandeliers, original brass signage, and the mosaic flooring.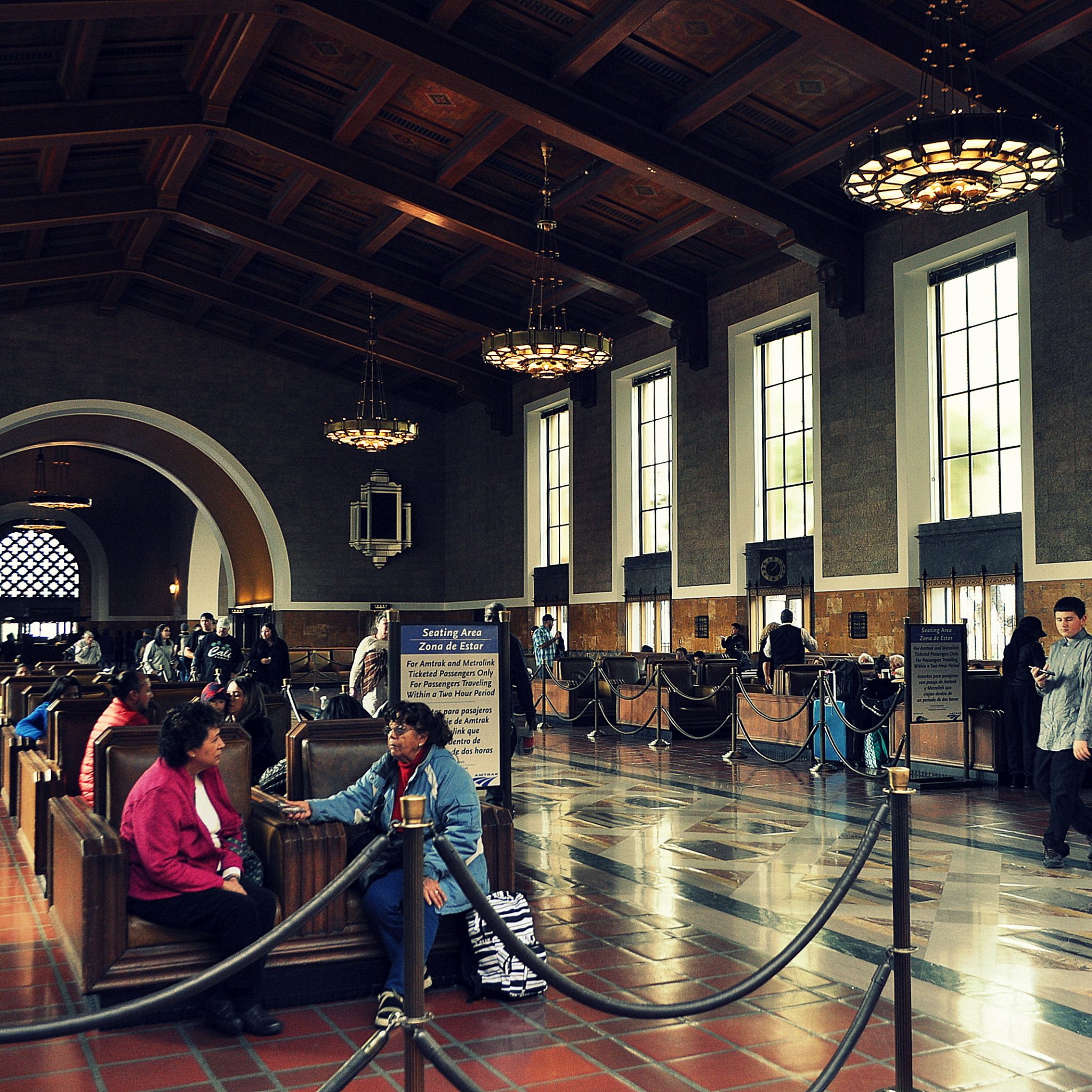 If you're hopping on board as a means of getting to one of the West Coast's numerous natural and cultural heritage sights, check out the innovative Trails & Rails program between the US National Park Service and Amtrak. The partnership provides train passengers with educational opportunities to foster an appreciation of the region's heritage and renews the long tradition of associating railroads with National Parks – afterall since the beginning of the 20th century, railroads played an active role in developing America's national parks.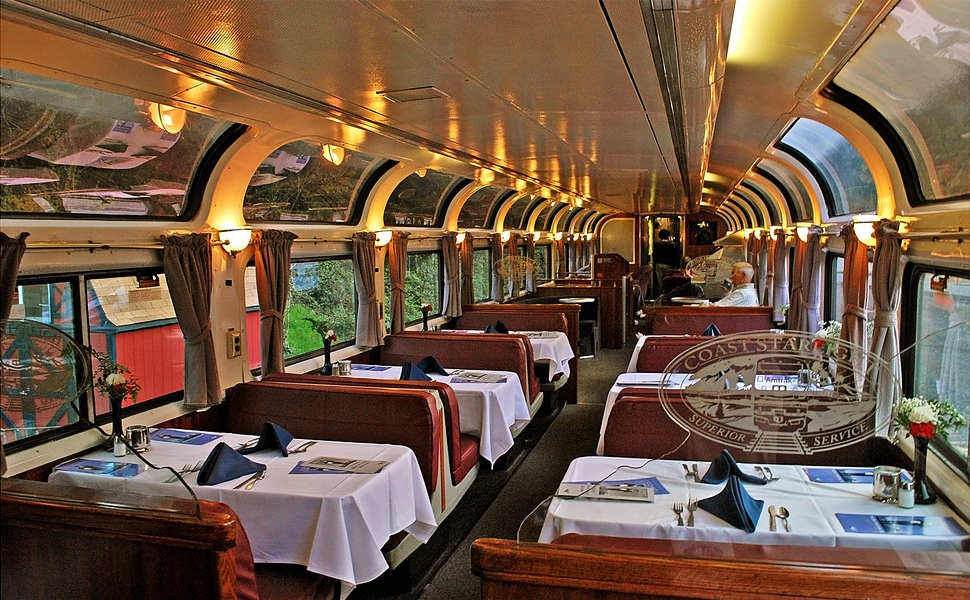 The company is also committed to increasing energy efficiency by improving operating practices and conservation measures as well as reducing emissions. In addition to rail travel offering lower emissions per passenger mile, they have partnered with carbonfund.org to provide passengers with the choice of purchasing carbon offsets along with their Amtrak ticket. In 2016, our passengers purchased 101 metric tons of CO2 offsets.
To get a sense of how your travel on Amtrak will impact your carbon footprint, enter the city and state of your origin and destination, along with the number of passengers into their helpful Rail Offset Calculator.
All of the trains and Amtrak-owned station concourses and food courts feature onboard recycling receptacles for bottles, cans and paper. As part of an ongoing effort to attract more cyclists, the company has introduced an enhanced bike service program designed to provide as much convenience as possible to passengers traveling with their bikes.
Amtrak has been also reducing fuel and energy usage with a few initiatives including energy efficiency upgrades and implementation of our Green Power Purchasing Policy. For more information on their sustainability initiatives, goals and greenhouse gas inventory, take a look at the Amtrak Sustainability Story or a more detailed Sustainability Report.
As an added bonus, traveling on a train allows you to disconnect, destress and discover (or rediscover) the beauty of slow travel – you'll have plenty of time to mindfully enjoy your meals, read or most of all, talk to fellow train passengers. We're all guilty of not talking to each other enough today.
As Pamela Petro put it in her beautifully descriptive Telegraph article:
"Here's the great thing about being a train passenger: motion without responsibility. When the sun rises, or the conversation ends, or when you wake up and look out the window, the world is new. Sometimes unrecognizably, dizzyingly so. To me this is the crux of earthbound magic, and in the US no train conjures it better than the Coast Starlight."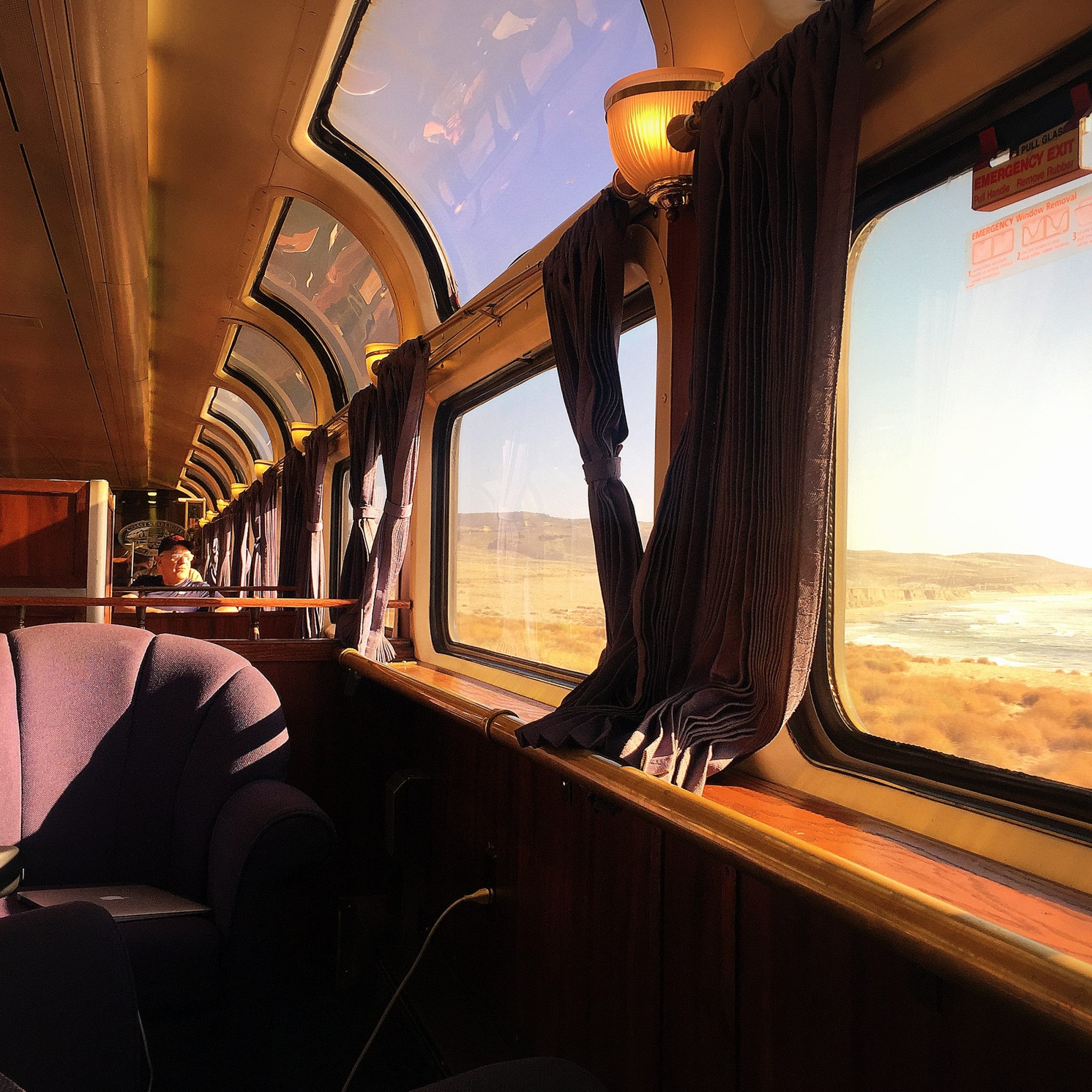 So go ahead, break free of congested airports and freeways. Explore rocky coastlines, glide beside majestic mountains and immerse yourself in the creativity and energy of the great cities. You'll be seeing the best of the country's western landscapes, without having to worry about keeping your eyes on the road.
Plus, you'll have plenty of time to reflect on your environmental good deed for the planet and dream up your next green vacation.
Photography: Gabriela Sijer