Whale (and dolphin) watching boat tours are an increasingly popular ecotourism activity across all demographics of travelers. While it's uplifting to see a growing interest in observing those marine giants in their natural environments rather than at aquariums and SeaWorld, the size of the industry has raised concerns about its impact on whales.
Turns out we might be contributing to the destruction of those very environments, or at the very least disturbing feeding and migration patterns. Should we, as responsible travelers, avoid whale watching altogether?
A series of measures to control whale watching were issued by the International Whaling Commission (IWC) a few years ago. Unfortunately, as many other branches of ecotourism, the industry is prone to being badly managed and oriented towards entertainment and profit rather than education and conservation.
In many places around the world, whale watching might consist of little beyond hopping in a boat with a group of other eager tourists, and then trying to get as close to the whales as possible to get the best Instagram shot. It's no wonder that we've become apprehensive about boat-based viewing, and question whether this creates a disturbance for the whales.
The industry is prone to being badly managed and oriented towards entertainment and profit.
It's easy money, especially for entrepreneurial boat owners in developing countries that haven't as of yet introduced industry-specific regulations. Worldwide at least 13 million people go whale watching every year and it is an industry estimated to be worth $2 billion, according to the International Fund for Animal Welfare. In short, it is a very profitable business.
Whale watching as we know it today, i.e. taking a boat trip to try and spot the giant mammals going about their daily business out in the open sea or ocean, was initiated in the US in the 1950s and is now offered in more than 120 countries across all continents. With more and more locations in Asia and Latin America getting involved, the number of such marine tour operators is growing by the month.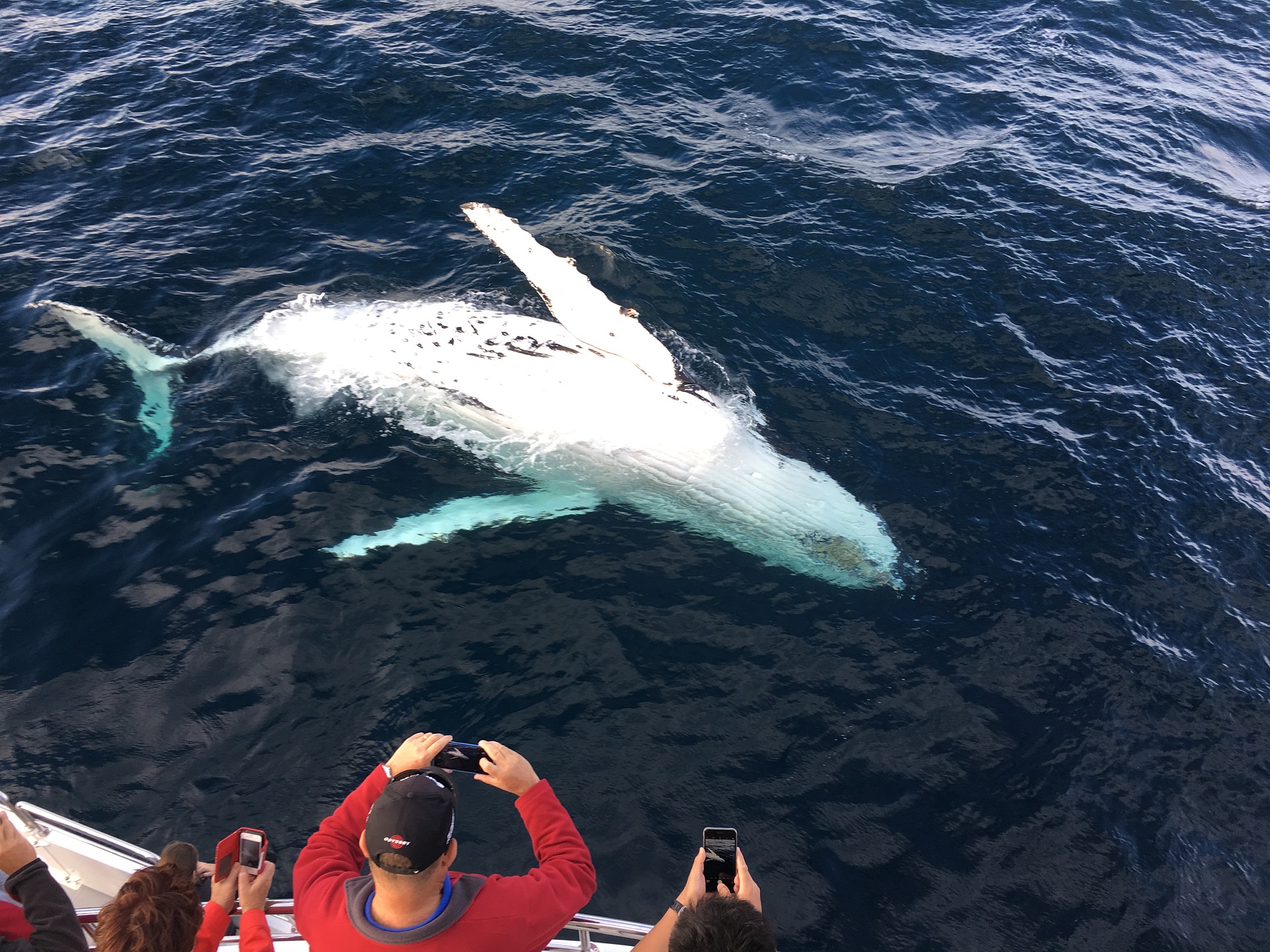 It can be hard to see the bigger picture when we're out on a tour with 6 or 16 other people on a fairly small, fairly quiet boat. Unfortunately, the reality is that some profit hungry operators in places lacking legislation (or monitoring, or both) send out boats as many as 10 times a day, again and again. We are talking about huge impact.
Marine biologists warn against changes to whales' natural behavior patterns, such as their ability to produce milk, and therefore feed and rear their young, essentially resulting in decreased survival rate. Other reactions reported have included increased respiratory rate and energy use and avoiding valuable feeding grounds. Not to mention some cases of boats colliding with the whales.
Interacting with whales and dolphins through responsible ecotourism can lead to a greater understanding of their conservation needs.
Other scientists, on the other hand, champion whale watching and argue it inspires conservation efforts. Indeed, it can bring many benefits such as spreading awareness of the issues that concern the mammals and their marine environments. Interacting with whales and dolphins through responsible ecotourism platforms can lead to a greater understanding of their conservation needs and the multiple threats they face today, such as plastic and chemical pollution and whale hunting still widespread in countries such as Iceland or Japan. In fact, the hugely profitable whale watching industry can stand as a strong argument against whale hunting.
IceWhale – The Icelandic Association of Whale Watchers and IFAW – The International Fund for Animal Welfare, have cooperated closely for several years. The aim is to inform and educate Icelanders and tourists about facts regarding whale meat consumption in Iceland and have their support to end commercial whaling instead of contributing to it by curiously seeking it in restaurants. Their Meet Us Don't Eat Us campaign has been very successful in educating the public about the matter. Ironically, the outreach was possible because of the whale watching safaris.
Marine ecotourism can also benefit local communities, some of whom have seen their fishing industries collapse. The motivation behind treading softly for tour operators can therefore be as mundane as the fact that scared off creatures will move out of the area in which case all profits will be lost.
Conservationists also point out that ecotourism boats function as a caution sign, warning private or other commercial boaters to slow down, who often even contact commercial whale watchers by radio and ask for advice on how to maneuver around whales, or simply follow behind and mimic proper protocol. Moreover, whale watchers are often the first on scene during marine emergencies, helping other vessels on the water until first responders arrive, and the crew often work with researchers to provide information on sightings, behaviour and entanglements.
As with so many aspects of sustainable tourism, it is a case of getting the balance right. The very least you can do to limit the damage is get your tour operator right.
When possible, look for a tour organizer who belong to the World Cetacean Alliance – the world's largest Partnership working to protect whales, dolphins and porpoises (cetaceans). Partners of the WCA aim to conserve and protect cetaceans and their habitats in the world's oceans, seas and rivers, to ensure their continued survival.
As with so many aspects of sustainable tourism, it is a case of getting the balance right.
Ask questions (such as how many boats go out each day, what's their code of conduct and what measures are taken to minimize impact – a responsible company should give you a thorough answer without hesitation) and never book a tour without checking the company's credentials and permits. It is also a good sign if a trip includes an on-board marine biologist or a naturalist to provide a commentary about the whales and their environment as you go.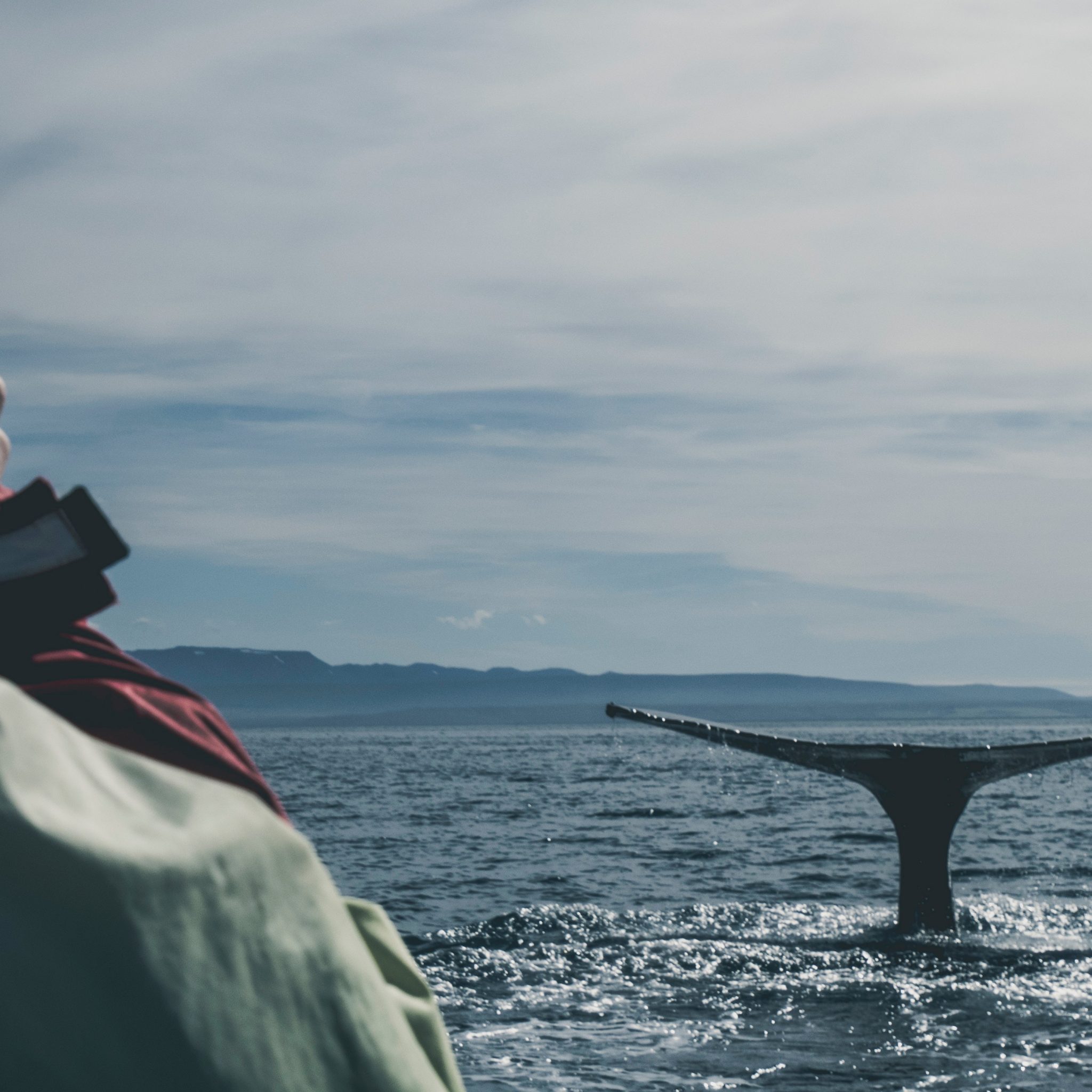 One example of how sustainable whale watching should be done is Canadian company Eagle Wing Tours based in British Columbia, who not only operate their tours responsibly, but set the trends for other companies both in Canada and worldwide. So much so that their own voluntary viewing guidelines were used as a model for federal regulations! A huge part of their tours is education.
By employing experienced captains and naturalists, they spread awareness of the behaviour and life history of these amazing see giants, as well as the interconnectedness of the rich but fragile Salish Sea ecosystem. Passengers hear about conservation measures they can take, even after they return home. By providing this kind of education and connection to nature, they are effectively inspiring the next generation of ocean stewards.
By providing education and connection to nature, they are effectively inspiring the next generation of ocean stewards.
Eagle Wings is the first ecotourism company in the region to have its boat fleet tested for noise emission levels. The goal is to reduce our sound footprint as much as possible. They are also 100% carbon neutral. In addition, they initiated a $2 wildlife fee that goes directly to whale and salmon conservation, offer free tours to school groups, and is a member of the amazing 1% for the planet ecotourism pledge.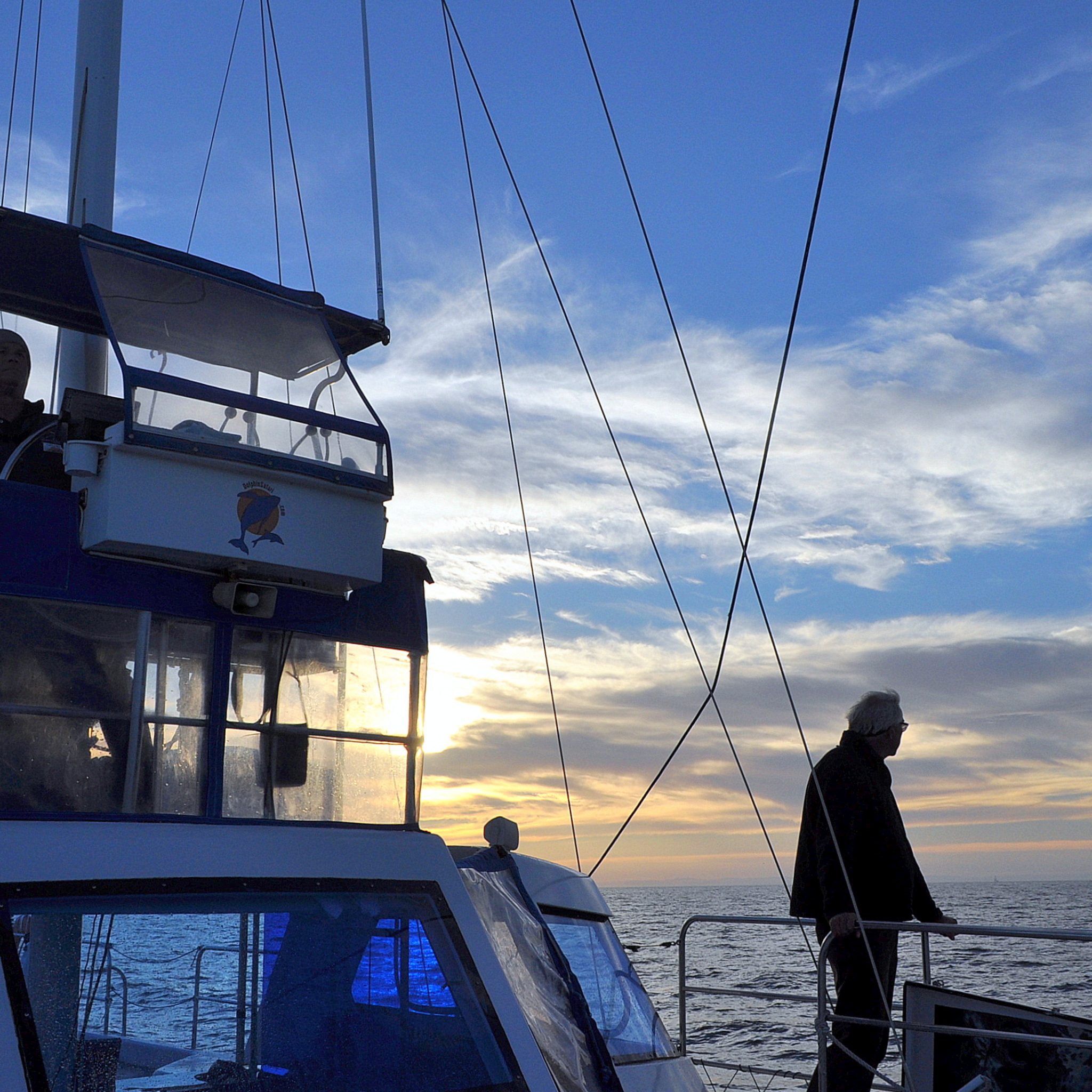 Another exemplary tour operator is Southern California-based Captain Dave's Whale and Dolphin Safari. Together with Mrs. Captain Dave who bakes legendary brownies for all participants, they have created one of the most unique marine mammal watching experience in the world. Coast Guard licensed Captain Dave Anderson is not only an experienced marine naturalist, but also an award winning filmmaker and author, photographer, speaker, and conservationist.
Frequently called upon as an authority on wild dolphins and whales in this area, there's no better expert to learn from about the majestic whales and wild dolphins, as well as a few other local marine friends such as California Sea Lions and Brown Pelicans.
Committed to promoting awareness of Southern California's ocean, Capt. Dave introduced and organized the first Ocean Awareness Day, now an annual event during the Californian Dana Point Festival of Whales, as well as organized whale disentanglement group. Most importantly, they recognize that the art of being an ecotourism company comes with a responsibility to educating the public about what's really going on in the ocean. One way to show their commitment is their community Beach Clean Up days. We applaud.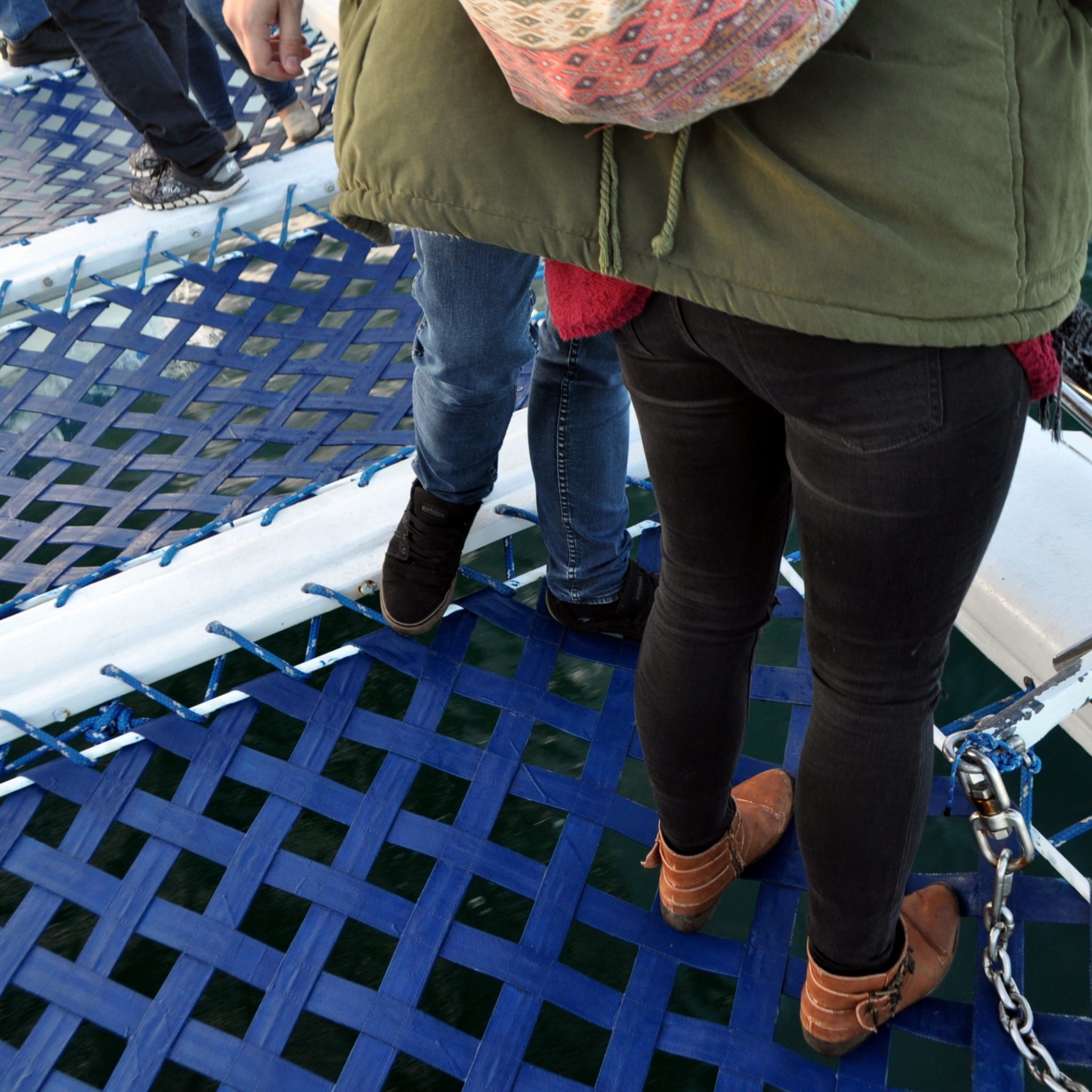 On the other side of the pond, in Iceland, giving 'voice' to whales and dolphins is Elding Adventure at Sea, the first and only environmentally certified whale watching company in Iceland. Through a partnership with The World Cetacean Alliance – a powerful coalition of businesses and organisations working towards best practice and sustainability in whale and dolphin watching tourism – they strive to have a positive influence on the way people view marine mammals globally.
See a whale or dolphin with an ultra responsible operator and you will be inspired to care about the marine environment.
All Elding staff members are expected to pull their load when it comes to sustainability and work according to a strict environmental policy. Captains, engineers, guides, crewmembers, bus drivers, ticket sales and office workers alike work closely together to maintain ecological balance. A family owned company that began with a personal interest in wildlife, boats and people, Elding also gets all their passengers engaged in the environmental work and consider their contribution invaluable.
If you're planning to venture out on your own marine expedition, whether on a private boat or kayak, follow these six things you should know about whale watching, as well as read up on these guidelines from NOAA. Also, try not to do this.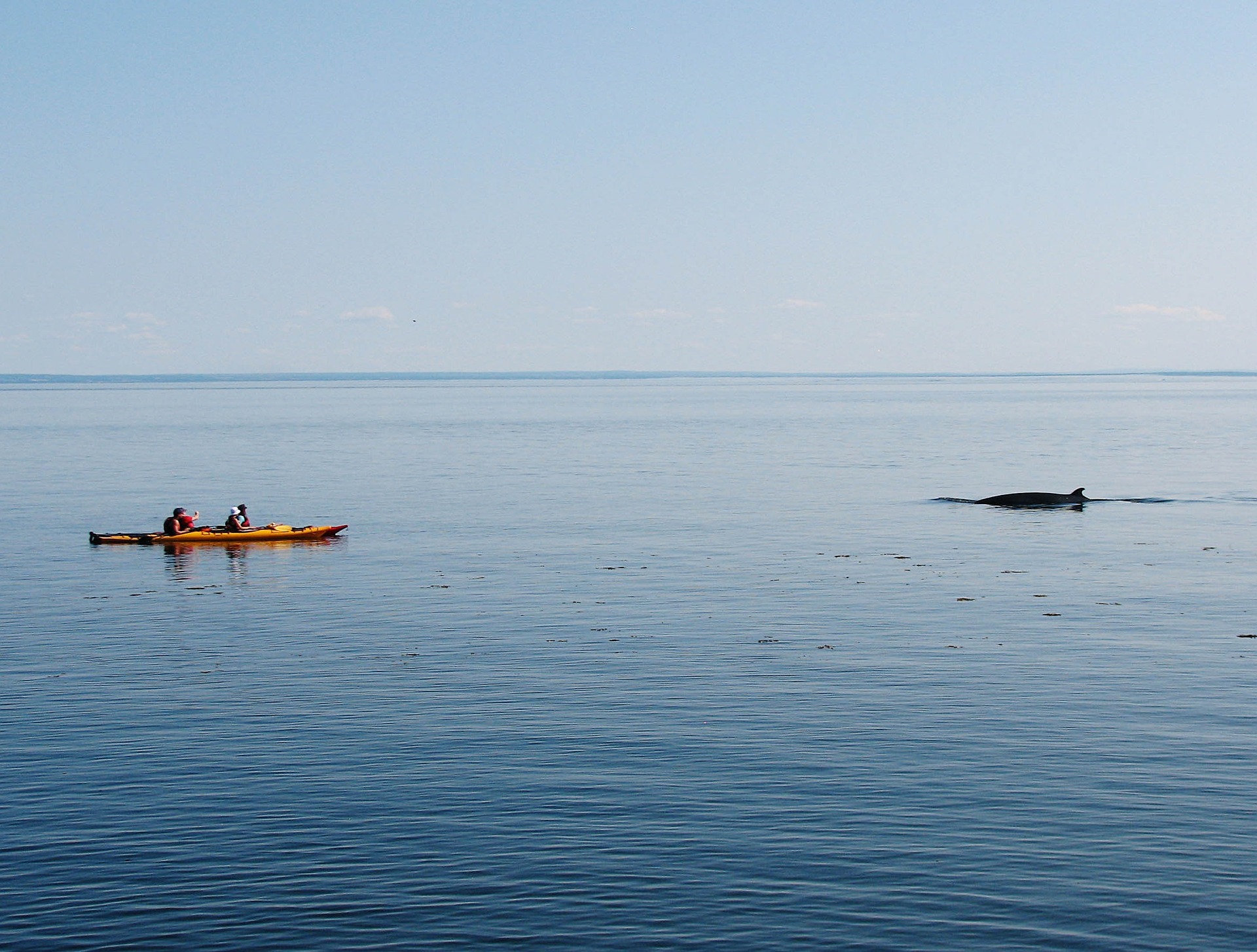 Finally, keep in mind that in certain locations and seasons both whales and dolphins can also be easily spotted from dry land.
"One hundred years from now, people are going to be begging for zoos and aquariums to take the animals from the wild because the extinction rate is so high," the CEO of SeaWorld recently predicted. Let's try our best to prove him wrong. See a whale or dolphin with an ultra responsible operator and you will be inspired to care about the marine environment and support those working to protect it.
Photography by Gabriela Sijer and Pixabay